Description
West3D is pleased to introduce another line of filaments to our lineup. 
Filamentive PETG: 67% Recycled 3D Printer Filament. Prints like PLA, strong like ABS. Perfect hybrid. Polyethylene terephthalate – or PET for short – is a common plastic. PETg is becoming an emerging filament; combining the printing ease of PLA with the strength and durability of ABS. PET plastic originates from non-renewable sources, and recycling rates remain low, which adds to the already large-scale problem of waste plastic. To combat this, Filamentive rPETg is made from recycled PET waste streams, such as plastic food containers and drinks bottles. This PET filament also features glycol – hence the 'g' – which prevents undesirable crystallization effects that cause standard PET to become brittle. Overall, rPETg is strong, does not warp, and is odor neutral; a perfect all-rounder, ideal for those strong and durable parts. It is even safe for food contact! Made for the hobbyist to Industry 4.0.
High quality PETG 3D Printer filament
67% Recycled content (average of all colors of this material; can vary)
100% recyclable cardboard spool and packaging
Prints like PLA, strong like ABS
Does not warp
Odor neutral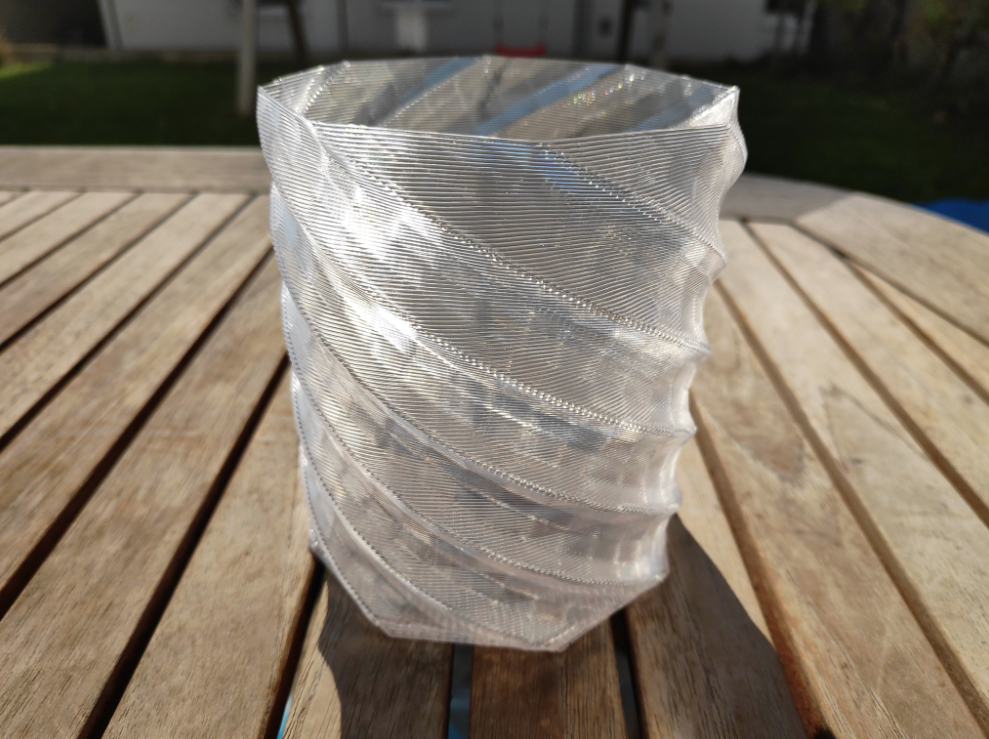 | | |
| --- | --- |
| Title | Filamentive rPETG 3D Printer Filament |
| Manufacturer | Filamentive |
| Base Material | PETG |
| Difficulty | Easy |
| Nozzle Temperature | 195ºC - 235°C |
| Heated Bed Required? | No |
| Print Bed Temperature | 50°C - 80°C |
| Bed Adhesion | Glass Plate, Tape, Buildtak, PEI |
| Enclosure Required? | No |
| Nozzle Size | ≥ 0.15mm |
| Print Speed | Medium |
| Fan Speed | Medium - Low |
| Flow Rate | 95% |
| Retraction | ± 5mm |
| Spool Weight | 1Kg (1.75mm), 750g (2.85mm) |
| Drying | Optional |
| Minimum Nozzle Temp | 195℃ |
| CA Prop 65 | Y |
| Dimensional Accuracy | < +/- 0.05mm |
| Settings Note: | The settings above are meant as a guide to find your optimal print settings. They should work well for most printers, but every printer is different. Please feel free to experiment outside these ranges if you think it is suitable for your printer. |
| Recycled | ✓ |
There is a clear environmental need for recycled filament, and UK based Filamentive is one of the world's leading recycled 3D filament producers. 3D Printlife is proud to introduce Filamentive's line of sustainable 3d filament to the US. Filamentive's commitment to sustainability and quality in 3d printing is exemplary and we have admired them since their inception. NO loss of mechanical properties, ±0.05mm diameter tolerances, Filamentive uses 100% recyclable cardboard spools as well as recyclable cardboard packaging. Compatible with your 3D Printer or 3D Pen, 3D Printlife stocks both 1.75mm & 2.85mm diameters in popular 3D filaments like rPLA, PLA Matte, rPETG, rASA, and Carbon Fibre rPETG. Use your 3D Scanner or your imagination to create your 3D printed parts. For beginners, experts, educators, hobbyists, home, or industry 4.0. Compatible with FDM 3D Printers including Dremel, Raise3D, Flashforge, Creality, XYZPrinting, QIDI, Syndaver, Robo3D, Prusa, Snapmaker, Monoprice, Lulzbot, MakerBot, and Ultimaker.