Description
The Berserker line of products, exclusive to West3D, represent the best the 3D printing world has to offer. If it isn't the best it doesn't carry the Berserker name. 
These Hybrid Ceramic bearings utilize polished AISI400C stainless steel races, AISI304 stainless steel cages, coupled with Ceramic Si3N4 ceramic ball bearings that have AF2# oil pre-applied. They are made to operate at RPMs up to 40,000 at continuous operating temperatures of over 120C (max rating for bearings is 181C). 
While most bearings you buy for 3D printers aren't even rated, ours are rated ABEC9, the highest possible rating for a roller ball bearing. Even the good bearings you'll find from the likes of Rain&Dew are only ABEC7. This means that our bearings are manufactured to a higher tolerance and eccentricity than anything you'll find from a 3D printing supply store (ABEC 9: 0.0012 mm (0.000047 inches) vs ABEC 7: 0.0025 mm (0.000098 inches)). For more information about ABEC ratings click here.
These are priced each.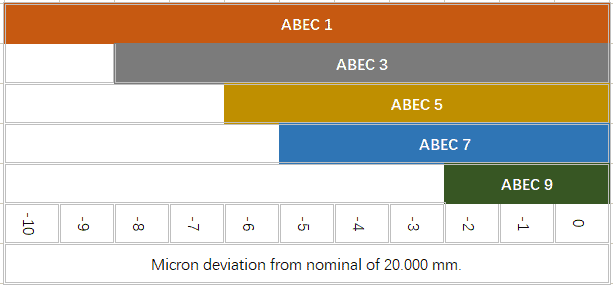 Bearing Tolerance Illustrated