Description
BioPETG is a professional grade PETG combined with our proprietary bio-additive technology that delivers a sustainable PETG filament, without compromising material performance.   
How does BioPETG work?
Our bio-additive simply provides a food source for bacteria living in active landfill facilities and commercial composts, but 3d printed parts maintain the strength, pliability, heat resistance, chemical resistance, and post processing capabilities of PETG in every way, delivering a more sustainable 3d printing experience.
BioPETG meets both ASTM D5338 and ASTM D5511 standards for biodegradability.  
ASTM D5338 determines the degree and rate of aerobic biodegradation of plastic materials by measuring a percentage of conversion of carbon in the sample to carbon dioxide. ASTM D5511 measures anerobic biodegradation.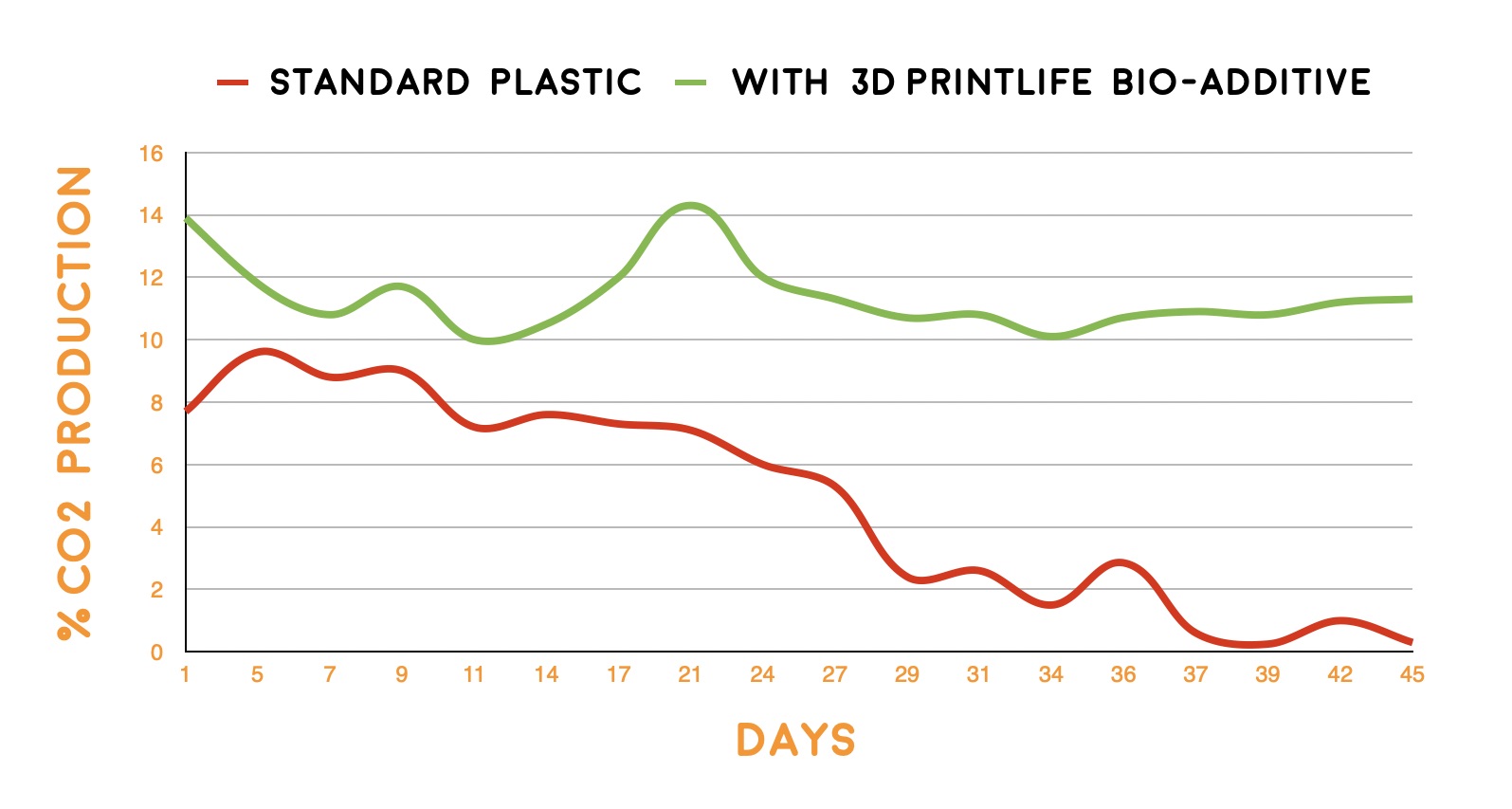 (Average results of combined tests)
BioPETG:
In independent tests 3d printed parts made with BioPETG provide a constant food source for the bacteria in each test vat, and measurements showed steady production of CO2 during the entire 45 day test period. 
Standard PETG:
In multiple test vats containing 3d printed parts made from pure PETG, measurable CO2 production is primarily a result of the bacteria cannibalizing each other.  Bacteria in these vats isn't able to convert the carbon in plastics into CO2 very efficiently, but as the bacteria in an area attempts to feed they produce an electrical charge that attracts other bacteria in the vat.  As bacteria discover the plastic is not a viable food source, they then begin feeding on each other.  In every test CO2 production was steady initially, but fell significantly roughly halfway through testing as the bacteria itself was consumed.
Key Features on Performance & Sustainability:
Physical properties of base material are unchanged
Maintains the shelf life of base resin
Degradation begins only at the time of disposal
Degradation is not initiated by exposure to heat, light, oxygen, or external stresses during storage or use
No special storage conditions required
Bio-additive contains no heavy metals and is ecologially and environmentally safe
Bio-additive returns to the environment as biomass
BioPETG combines many of the benefits of ABS with the ease of printing associated with PLA in one material:
High impact resistance
High strength and durability
Excellent layer adhesion
Excellent pliability
Very low shrinkage, therefore little to no warping making it deal for large prints
Smooth finish
No heated bed required
High temperature resistance
Odorless printing
Excellent chemical and water resistance
Excellent geometric accuracy
Can be sterilized
Strong but flexible (ideal for drones, mechanical parts, & robotics)
FDA compliant 
As with all materials there is a settings "sweet spot" that will vary from one printer to another. BioPETG is no different, but once you're dialed in printing with BioPETG is a dream.  Here are some general setting guidelines:
Set your nozzle temperature between 230°C and 250°C.
Print with cooling fan at 100%
A heated bed is not required but start between 70°C - 80°C if available.
Set print speed around 55mm/sec or less.
Try starting with an additional .2mm gap in the Z axis to avoid skimming
Storage: 
Cool and dry (15-25˚C) and away from UV light. This enhances the shelf life significantly.
Physical Properties: 
Tensile strength at yield: 50 MPa
Elongation Strain at Break: 23%
Elongation Strain at Yield: 6%
Tensile (E) modulus: 2,020 MPa
Flexural modulus: 2,050 MPa
Flexural strength: 69 MPa
Impact strength-Charpy 23˚C: 8.1 kJ/m²
Rockwell hardness: 105
Moisture absorption: 1,104 ppm
Glass transition temp.: 70°C
FAQ:
1. What is an Active Landfill?
Active Landfills or Landfill to Energy facilites contain a high concenreation of leachate bacteria that promote decompostion and produce landfill gases like methane that is catpured, refined, and used to produce energy.
There are over 3,000 active landfills / landfill to energy facilities in the US, and hundreds of commercial composts.
2. How long will it take for my parts to degrade?
This is probably the question we're asked most often, and the answer depends a lot on the overall mass, infill percentage, size, and geometry of any given part. Also the conditions in an active landfill or compost will differ from one location to another.  And bacteria concentrations will even vary within a single facility.  BioPETG (or PLA's for that matter) certainly won't ever degrade the way a banana peel will, but when we extrapolate the ASTM tesing data BioPETG delivers a markedly more sustainable material than standard PETG.
3. Will my parts degrade under normal use conditions?
Great question and NO!  The leachate bacteria concentration in active landfills needed to initiate the degradation process is extreme.  Your BioPETG parts will stand the test of time until you decide they've reached end of life.
Have a question?
Send your inquiry to: info@3dprintlife.com 
Made in the USA with 100% resins and precision manufacturing combined to deliver the ultimate in consistent 3d printing for hobbyists to Industry 4.0.
Every inch of BioPETG is measured to ensure that it is within the strictest standards for quality, diameter, and ovality. BioPETG is 750g of filament wound onto a heavy recycled cardboard spool that is biodegradable and bound with a recyclable tin end cap. In fact the entire spool can be tossed directly into your recycling bin!
The spool includes both a cutout for viewing filament and dual puncture slots to secure filament when not in use. The flange can even rotate to in either direction to aid in securing the filament wherever it has been cut. The spool was specifically designed for universal fit with most 3d printers in use worldwide and is compatible with Ultimaker printers.
Each spool of BioPETG is carefully wound to exacting standards to minimizing crossovers and loopbacks that can lead to snags and snaps. In addition, a portion of the proceeds from every spool of BioPETG will be donated to plant a tree. Every spool helps rejuvenate iconic forests in key locations throughout the United States.
| | |
| --- | --- |
| Title | 3D Printlife BioPETG, Eco-Friendly PETG 3D Printer Filament |
| Manufacturer | 3D Printlife |
| Base Material | PETG |
| Difficulty | Easy |
| Nozzle Temperature | 230ºC - 250ºC |
| Heated Bed Required? | No |
| Print Bed Temperature | 0°C - 80°C (if available) |
| Bed Adhesion | Glass Plate, Tape, Buildtak, PEI |
| Enclosure Required? | No |
| Nozzle Size | ≥ 0.15mm |
| Print Speed | ≤ 55mm/s |
| Fan Speed | 100% |
| Flow Rate | 110.% |
| Retraction | ± 5mm |
| Spool Weight | 750g |
| Drying | Optional |
| Minimum Nozzle Temp | 230ºC |
| CA Prop 65 | Y |
| Dimensional Accuracy | < +/- 0.05mm |
| Other Recommendations | Try starting with an additional .2mm gap in the Z axis to avoid skimming |
| Settings Note: | The settings above are meant as a guide to find your optimal print settings. They should work well for most printers, but every printer is different. Please feel free to experiment outside these ranges if you think it is suitable for your printer. |
3D Printlife is committed to improving sustainability in 3D printing and aiding in the fight against climate change. Our 3D filaments are compatible with your 3D Printer or 3D Pen, and we stock both 1.75mm & 2.85mm diameters.  Featuring materials from FormFutura, Filamentive, Copper3D, FibreTuff, & Keene Village Plastics, our 3D filaments are biodegradable, eco-friendly, tough materials that are modified and optimized for 3d printing,and feature cardboard spooling to help offset your carbon footprint. We offer Pro PLA, PLAyPHAb PLA/PHA, PVA, Enviro ABS, Bio PETG, ALGA algae based PLA, Nylon like DURA, ABS like OMNI, semi flexible YOGA TPU replacement, RePLAy 100% recycled PLA filament, Carbon Fibre, ASA, Polypropylene, PEEK, Carbon Fiber PEEK, PEKK, PEI Ultem, and PPSU. Use your 3D Scanner or your imagination to help create your 3D printed parts. Our sustainable 3D filaments are compatible with FDM 3D Printers including Dremel, Raise3D, Flashforge, Creality, XYZPrinting, QIDI, Syndaver, Robo3D, Prusa, Snapmaker, Monoprice, Lulzbot, MakerBot, and Ultimaker.